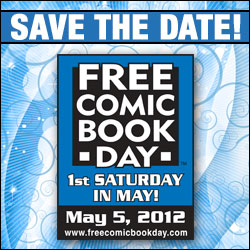 Free Comic Book Day takes place at our store from
9AM - 8:30 PM
Get Free Comics - no purchase necessary!!!
We will also be offering free comics that nobody else has! Get them while supplies last!
Get a free manga or graphic novel from our special selection with a purchase of 2 or more graphic novels on May 5th!
+ Get Double Rewards on ALL GRAPHIC NOVELS, MANGA and ART BOOKS!!!
GET 50% OFF ALL BACK ISSUE COMICS ON SAT & SUN May 5-6th!!!
In lieu of our 5th Anniversary, and the Avengers movie that opens on May 5th,
we'll have 3o select Marvel titles on sale for

$5 EACH!
(Regular retail prices range from $15-$40!
).
The sale lasts from tonight to next weekend!
**PLEASE NOTE - in order to serve you faster, we will have extra staff on hand, as well as an extra cash register to speed things up.
***ALSO NOTE - in order to serve you faster on this day,
we will not be redeeming any Free Rewards points on May 5th
-but YES YOU GET DOUBLE on the stuff you buy (Graphic Novels, Manga, Art Books). Free Rewards points can be redeemed May 4th or any time after May 6th.
***** ALSO FOR THOSE INTERESTED -
We are looking for volunteers
who'd like to help us at the store on this day to hand out free comic books to customers! As a token of our gratitude all volunteers will receive a special 'Thank-You Gift' for their help! Anyone interested should get in touch with us ASAP!
E-Mail:
info@thelabyrinthstore.com
Phone: 416-840-4506