THIS SUNDAY, JUNE 26th is the ANNEX FAMILY FESTIVAL!
There will be lots of vendors, entertainment, music, food and other fun activity for families and kids on the street!
It'll be a great time, so bring your family & friends and have fun!
As part of the celebration, our Toronto Location will be having an in-store SALE!
We'll be OPEN earlier from 11:00am - 7:00pm on Sunday, June 26th!
We invite our customers from Oakville to join us there and have fun in downtown Toronto!
The main road itself will be closed off, but there will be FREE PARKING along side streets!
Or take the TTC to Spadina Station!
Head over here for more details about the festival! Or follow the event on Twitter.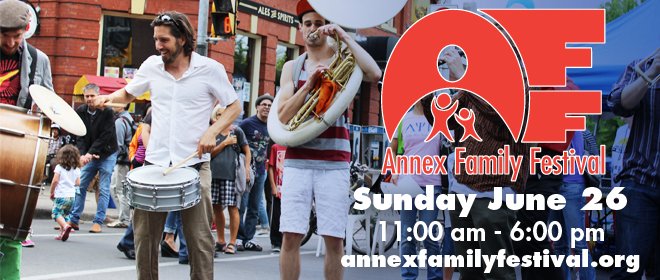 SALE DETAILS! - 1 DAY ONLY
TORONTO LOCATION ONLY
GRAPHIC NOVELS & MANGA
BUY 2 - GET 1 FREE!
Buy any two graphic novels or manga & get a 3rd one for FREE!
Exceptions - Rare Out-of-print & New Releases are not included in the deal. See in store for details.
ART BOOKS
BUY 1 - GET the 2nd for 30% OFF!
Buy any regular priced Art Book and get another regular priced Art Book at a 30% Discount!
Note: The Discount will apply to the cheaper of the two books.
Exceptions - Excludes New Releases & Already-Discounted Books. See in store for details.
POP! VINYL FIGURES
GET 3 POP! VINYL FIGURES FOR $40!
Buy any 3 regular priced POP! Vinyl Figures (Normally worth $15 each) and you'll save $5!
Exceptions - Excludes specially priced rare/exclusive POP! Vinyl Figures.
FREE COMICS!
Did you miss out on Free Comic Book Day in May?
We'll be handing out some more FREE Comics while supplies last!
We plan to have other DEALS in store so keep an eye out for more details, or simply drop in on Sunday, June 26th!