Exciting news was revealed a little while back. Some big features and collaborations will be in the new upcoming game 'Metal Gear Solid: Peace Walker.' Alongisde many product placements, there are also big gaming tie-ins!
1. Capcom and Konami
Peace Walker will have an otional special mode that ties in with Capcom's Monster Hunter Portable G brand. The game features an island you can visit and hunt monsters either alone or through 4-Player co-op!
There will also be comic style cutscenes in this mode featuring art by Yoji Shinkawa and Ashley Wood!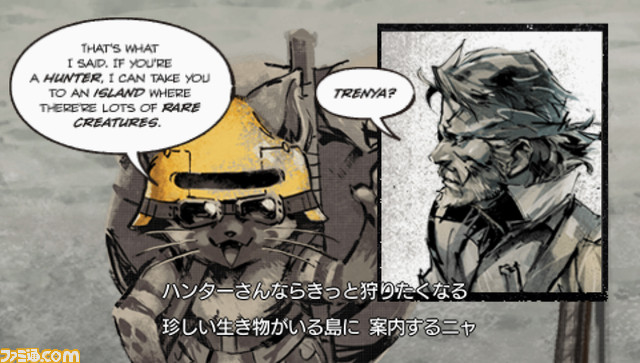 2. Ubisoft and Konami
Revealed through a joke trailer on April Fool's Day, Kojima Productions will once again show their love for 'Assassin's Creed' by including an item that takes inspiration from the game.
3. Square Enix and Konami
Square Enix has announced that their Play Arts division will be creating toys based on the characters and mecha of Peace Walker. Also apparently there will be some functionality between the Peace Walker game on PSP and SE's Front Mission console game that will allow you to swap parts to build things.
The game and it's products etc. are certainly looking to come out very well! Those interested in anything mentioned above can find artbooks for Monster Hunter, Assassin's Creed, Metal Gear Solid, Square Enix franchises and Ashley Wood illustrations as well as comics and also Square Enix Play Arts merchandise and toys available at our store!